Jingles trace their roots back to the early 1920s when radio broadcasting became popular. Companies sought ways to grab listeners' attention and create memorable advertising messages. The earliest jingles were simple, often just a few catchy lines set to a repetitive melody. These early jingles were produced and aired directly by brands themselves.
As television rose to prominence in the mid-20th century, jingles found a new medium to reach a wider audience. They evolved to become more sophisticated, featuring professional singers, instrumentalists, and production teams. Advertising agencies took the reins of jingle production, ensuring high-quality compositions that resonated with consumers.
Jingles play a crucial role in brand advertising. They aim to create emotional connections between consumers and brands, fostering brand loyalty and recognition. Jingles often include the brand's tagline or value proposition, making them an effective tool for brand recall. When consumers hear a jingle associated with a product, the brand's message is reinforced, increasing the chances of converting potential customers into buyers.
A jingle is a piece of music with words set to it that explicitly communicates a brand message, says Sumanto Chattopadhyay, Ex Chairman & CCO,82.5 Communications, Ogilvy Group.
"A jingle contains the brand name as a part of the lyrics. This is distinct from pure music that is used with brand communication that does not mention the brand name or an explicit brand message. 'You and I in this beautiful world' was a song created for the iconic Hutch ad featuring the boy and the dog. It became a hit and was used in many subsequent Hutch ads and this piece of music became closely associated with the brand. But I wouldn't call it a jingle because while it evoked the world of Hutch it did not have any literal message about the brand. Titan has used Western classical music in its watch advertising for years. It was a piece of music taken from Mozart's 25th symphony. It became so closely associated with the brand that even if you were in the kitchen when the ad was playing on TV, you knew which brand it was", he explains.
Throwing more light on the relationship between brands and jingles, Chattopadhyay believes that while music and jingles continue to be an essential part of TV commercials and audio spots today, they are not the 'heroes' they used to be.
"The Pond's Dreamflower Talc jingle 'har baat hogi manchahi jab shuruaat ho sahi', which is still around, used to be so central to the brand—it used to evoke so much emotion in the consumer, I don't know if it has the same level of appeal today", he added.
Media agencies exert their creative powers to make jingles that harmonize with a brand's identity. Like musical maestros, they make catchy melodies and lyrical finesse, building sonic identities that resonate with the audience.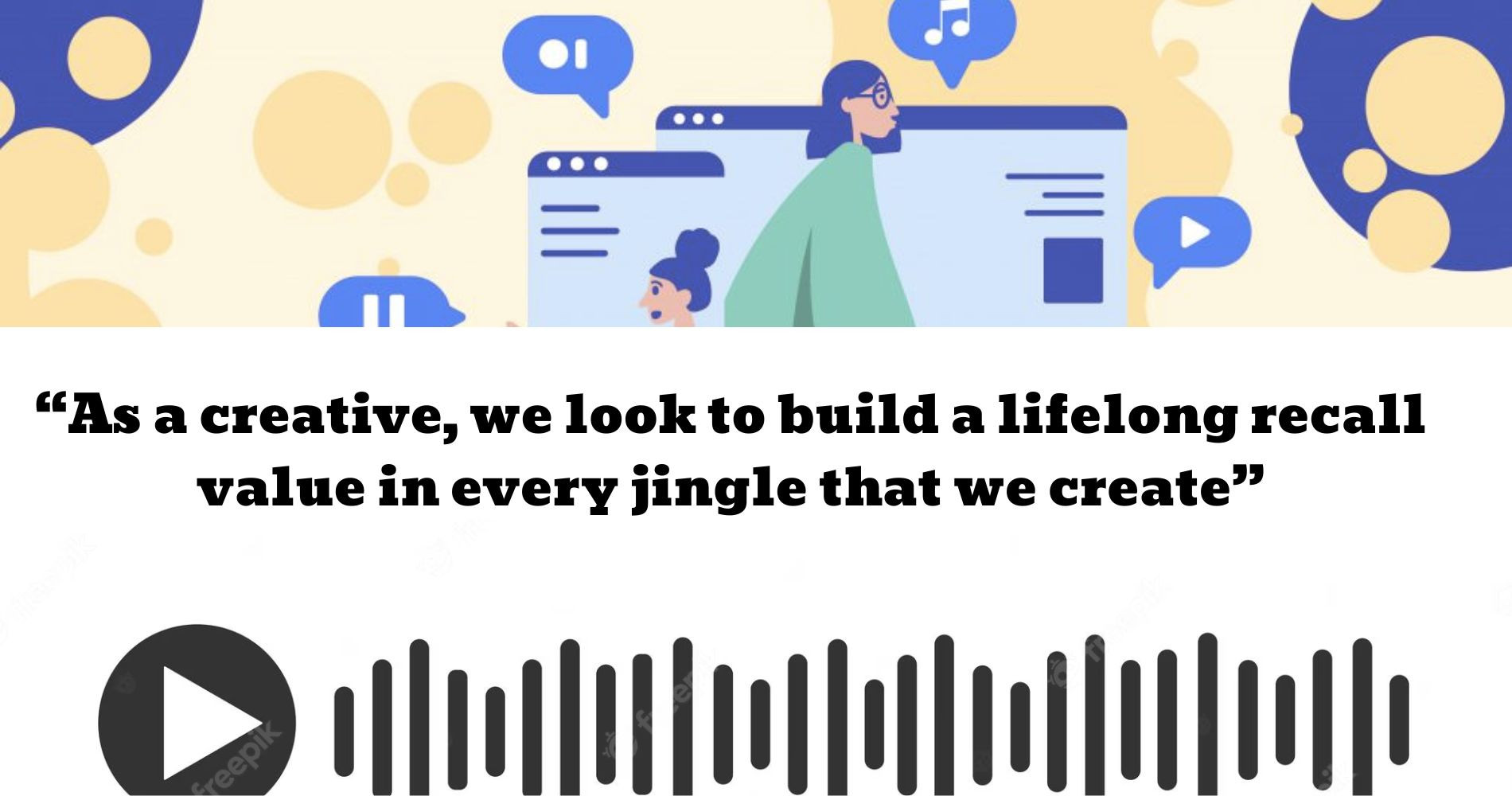 "As a creative, we look to build a lifelong recall value in every jingle that we create," says Ajeet Shukla, Group Executive Creative Director, West, Dentsu Creative, India.He further adds, "Advertising jingles have the power to strike an emotion and get stuck in your head for long. In fact, even forever in some cases.Here are some jingles that changed the way we look at jingles. Airtel - Har ek friend zaroori hota hai, Cadbury's - kya Swaad hai zindagi ka, Vodafone Hutch - Little things, Bajaj - Humara Bajaj, and this list is endless."

Shukla also believes that there is a certain stigma around jingles that might sound dated, but that is also one of the reasons why more tongue-in-cheek campaigns around the world have embraced them historically and still works beautifully. Though the jingle has proven to be such a strong marketing tool, it's scarcer in today's market than it was in the past.
Melody And Identity:
Jaideep Thackeray, Creative Head- Design, SoCheers says that in a world where brands have become synonymous with their catchy jingles, the power of these musical gems cannot be underestimated.
"When you hear a jingle, it instantly triggers thoughts of the brand it represents, and vice versa – a harmonious marriage of melody and identity. Arguably, the 90s witnessed a golden era for advertising jingles and slogans, embedding themselves in our collective memories. Brands like Dairy Milk, Bajaj, Nirma, Pepsi etc. created timeless tunes that still resonate with us today. Jingles played a pivotal role in creating awareness and solidifying brand identities during this period", he shared.
Thackeray also says that Social Media has given a new life and reach to jingles.
"With the widespread presence of social media platforms like Facebook, Twitter, TikTok, and Instagram, jingles can find new life and reach a broader audience. A captivating jingle can go viral and be shared countless times, amplifying brand exposure beyond imagination.Thanks to advancements in technology, the music industry has seen remarkable progress. Jingles are no exception, as they now leverage cutting-edge technologies and genre-blending techniques to captivate and maintain audience attention in an oversaturated market."
There is no doubt that jingles help differentiate brands in crowded markets. By crafting a unique and memorable sonic identity, companies can stand out from their competitors and establish a distinct brand personality.
Mansi Parekh, Account Director, The Rabbit Hole says, "Jingles are the melodies that hum in the back of our minds, they are more than just catchy tunes - they are memories echoing with brand identities. Remember 'Washing Powder Nirma' or 'Airtel's Har Ek Friend Zaroori Hota Hai'? With just a single line, an entire story unfolds in our minds. These iconic melodies have morphed, adapted, and innovated, yet they persist and influence us uniquely, standing at the crossroads where music meets advertising. Their evolution charts not just the journey of music, but of us - the listeners, the consumers. A single line hummed can resurrect a myriad of images and emotions - that's the power of a jingle, an evocative composition that weaves the identity of a brand into the fabric of our lives."