Building on the mega-success of MTV Hustle 2.0, India's leading youth entertainment channel, MTV from Viacom18, announces the highly anticipated return of its iconic desi hip-hop reality show. POCO MTV Hustle 03 REPRESENT, co-powered by GOVO Soundbars, T-Series, Wildstone, and Appy Fizz, the latest season will bring unprecedented, fresh rap sounds from all corners of India. The show is set to premiere on October 21, and air every Saturday and Sunday at 7:00 pm on MTV and JioCinema.
Desi hip-hop has found its own voice and following in recent years. The new season acknowledges its growing presence across India, representing its youth, people, and ideologies. As the show has emerged to be the definitive stage for fresh rap talent, 'India Ab Tumhari Baari' is the season's clarion call, urging young India to proudly celebrate the representation of their hood, culture, music, passion, stories, beliefs, issues and even identity. This season is poised to reinforce MTV as a culture catalyst for young India.

Leading the charge once again will be none other than the trailblazing rap supremo and global rap artist Badshah. To hone talent and create industry-ready professionals, eminent Indian rap powerhouses Ikka, Dee MC, Dino James, and EPR will assume the role of Squad Bosses. This time, the stakes will be higher for them, and not just the contestants. Packed with meticulously designed cutting-edge graphics and acoustics, the new season's performances will have a concert-like vibe, amplifying the excitement and vigour three-fold for fans. Musically inclusive, the songs will also feature regional, folk, Bollywood influences and unplugged versions. Fans can also access their favourite performances on multiple platforms including KaanPhod Music.

The grand success of the previous season, which featured 100+ chartbusters and viral hits, has given an impetus for the latest one to transform into an equalizer bringing underground rap talent with varying degrees of experience, forte and prowess – all on the same stage. Intensifying the competition, the pan-India talent pool will be challenged through different episode themes, to diversify their skill-set, musicality and performances across rap genres like chill hop, lo-fi, trap, jazz, and more.

Anshul Ailawadi, Head – Youth, Music, and English entertainment, Viacom18, said, "MTV has always been a co-creator in India's evolving youth story. The stage of MTV Hustle has truly pioneered the desi hip-hop revolution, with a powerful cultural impact across the sub-continent. The new season will represent India's youth in the truest sense. We're proud to bring this sonic revolution, across multiple platforms for our audience."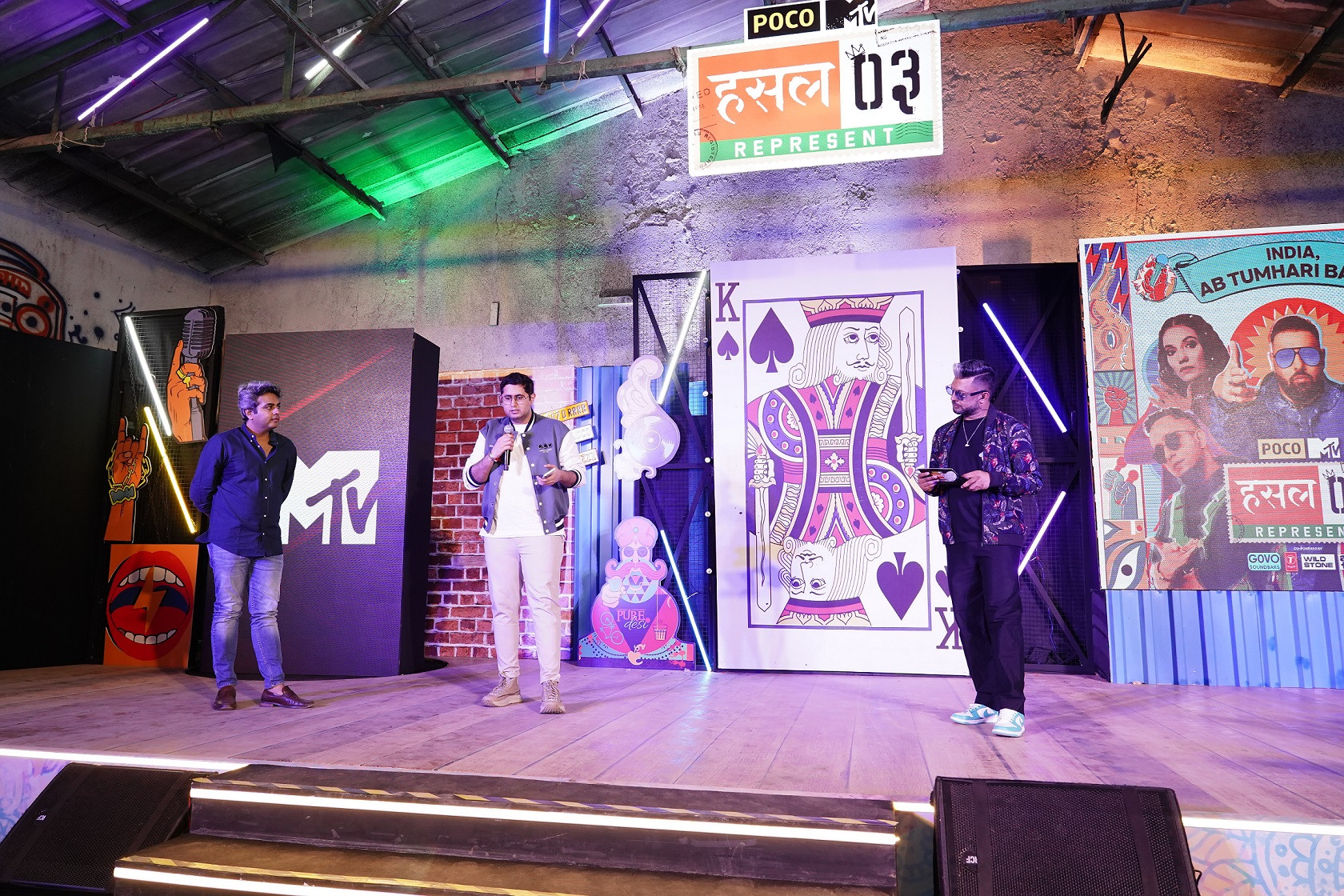 On this exciting partnership, Himanshu Tandon, Country Head, POCO India, said, "Rap is more than just music; it's a powerful expression of the youth's unyielding spirit. POCO has always been the brand for those who dare to be different, who embrace challenges, and who set new trends. Our association with MTV Hustle 03 REPRESENT is a testament to our commitment to understanding and empowering the vibrant energy of the young generation. Through this collaboration, we're not just sponsoring a show; we're becoming a part of a cultural movement that resonates deeply with the millennial and Gen Z audience. POCO is thrilled to amplify the voices of India's rap sensations and contribute to the growth of an art form that speaks volumes about the passion and resilience of our youth."

Recently the IP was in the news for its ground-breaking global partnership with T-Series. In a first-of-its-kind initiative by a non-fiction IP in India, this partnership provides exclusive music rights for worldwide distribution. Amplifying the vision of building industry-ready rap professionals, the show is committed to empowering artist journeys at a global scale.

For the exciting third season of Hustle 03, JioCinema has planned a range of exciting and engaging interactivities for its viewers. A Fantasy League has been designed that will allow audiences to make their own squad and win points for predicting which contestants will get Radio hit, highest squad scores and who would be eliminated. The person that wins will stand a chance to watch the show live. Adding to the entertainment is a fun a watch and win contest where viewers will be asked one question during the Sunday episode that will allow viewers to win exciting prizes daily. Everyone is aware of the popular meme culture, keeping this in mind, the audience will be given templates from the iconic show on which they can create their own memes. The immersive interactivities above is sure to make this season of Hustle on JioCinema an engaging experience.