In what was supposed to be a musical extravaganza, renowned Indian music composer and singer AR Rahman's "Marakkuma Nenjam" music concert left fans disappointed as it unfolded as a flop show. Rahman, often referred to as the Mozart of Madras, is celebrated worldwide for his extraordinary talent and mesmerizing music. However, this particular event, held on September 10, 2023, failed to meet expectations for several reasons.
It was a tsunami of people and love that we were unable to handle,'. 'As a composer, my job was to give a terrific show, and I thought everything else would be taken care of. I was just thinking that it shouldn't rain, and was happily performing inside, without any idea of what was happening outside. Our intentions were good, but I think the response was beyond our expectations. We are collecting the data now, and we will surprise fans with something soon."
Rahaman said that 'Right now, we are just terribly disturbed. Safety was the primary issue, especially because there were women and kids. I donâ??t want to point fingers at anyone, but we have to realise that the city is expanding, and the passion to consume music and art is also expanding'.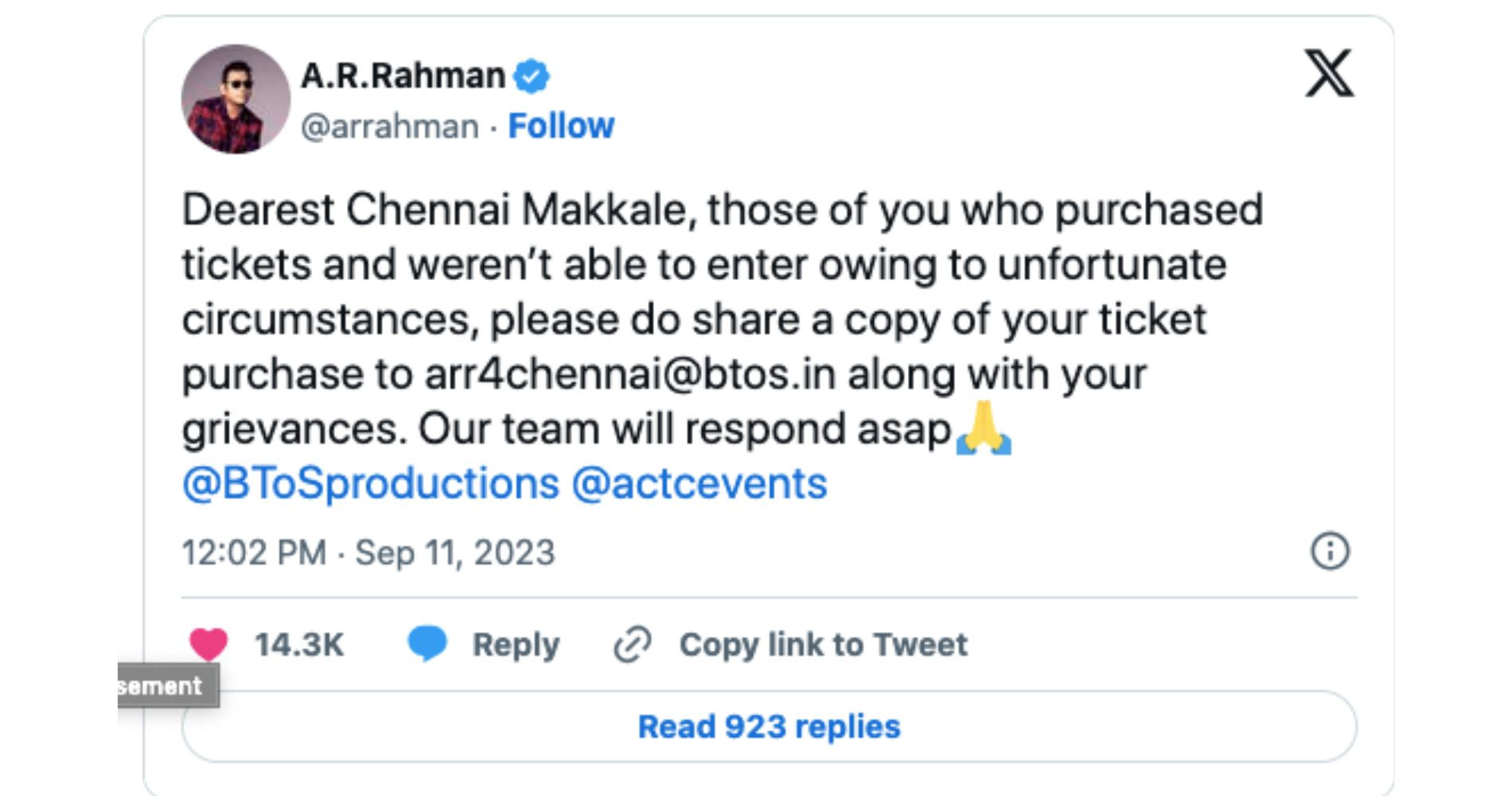 The concert faced an unexpected rescheduling from August to September due to adverse weather conditions. AR Rahman, in consultation with authorities, made this decision to prioritize the safety and well-being of his fans.
Despite 'Marakkuma Nenjam' being one of India's highest-grossing shows to date, fans expressed their disappointment, citing issues such as overselling of tickets and inadequate crowd management. Rahman shed light on the situation, explaining, "The organizers, ACTC events, had arranged approximately 46,000 chairs at the venue. In certain sections, everyone congregated on one side and did not utilize the other side. Observing this, the on-duty policemen assumed that the venue had reached its capacity and subsequently closed the entrance. Unfortunately, by this time, the show had already commenced inside."
AR Rahman's "Marakkuma Nenjam" music concert may not have met the expectations of his fans due to a combination of factors, including lackluster promotion, high ticket prices, COVID-19 concerns, venue choice, technical issues, a repetitive setlist, the absence of surprise guests, and timing constraints. Nonetheless, Rahman's legacy as a musical genius remains untarnished, and his fans continue to look forward to his future endeavors with anticipation and excitement.