SOCIAL, India's leading hospitality brand known for bringing communities together, plunged into the festival arena for the first time last year with its very own festival in collaboration with Johnnie Walker Refreshing Mixer (Non-Alcoholic). SAUCE is a festival that is centered around Music, Art, Crypto & Hypewear with the first edition held in Mumbai.
This time around the disruptive brand is upping its game by expanding this contemporary culture festival into a 3-city affair in association with Walkers&Co by Johnnie Walker Refreshing Mixer Non-Alcoholic. SAUCE by SOCIAL, curated with the help of subculturethink tank - 4/4 Experiences is taking place on 18th March in Delhi,25th and 26th March in Mumbai and 8th April 2023 in Bangalore.
SAUCE is more than just a festival; it's a celebration of the culture of the future. Whether you're a tech enthusiast, a foodie, art or music lover, get ready to immerse yourself in a world of innovation, creativity, and flavour!
So what makes this festival so unique, you ask? We've broken it down for you.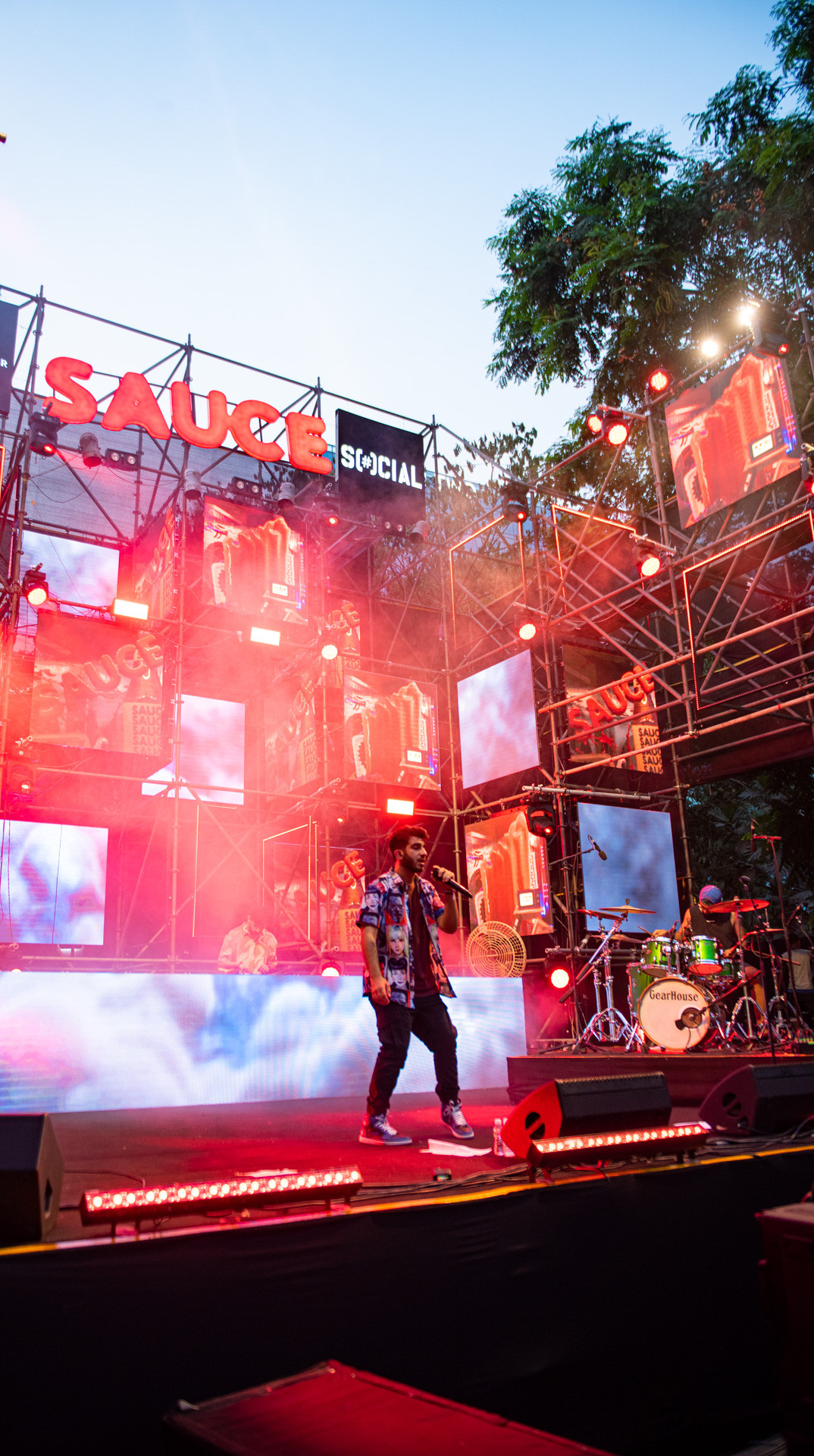 1) The Line-up:
SAUCE festival-goers are in for a treat with an impressive lineup of international headliners and upcoming Indian independent artists. In Delhi, attendees can look forward to live performances by Latin pop legend Manu Chao, young and innovative hip hop producers Sandunes, and talented rapper RedVeil who has already co-signed with JID and Denzel Curry. Meanwhile, heavy giants such as Manu Chao, Seedhe Maut, and Yellow Diary will take centre stage in Mumbai, along with rising stars like Anyasa and RedVeil. In Bangalore too, the line-up features Manu Chao, Parvaaz and Thaikkudam Bridge, as well as the talented Seedhe Maut.
2) Art & Design:
The Art Garden will showcase the work of young visionaries who are shaping the aesthetic of the future. Returning for the second edition isAaquib Wani, an experiential designer & art director who has designed this year's festival. Wani's visionary designs last year impressed everyone, and this year, he promises to take things to the next level. The talent lineup for this year'sArt Garden also includes Sajid Wajid Shaikh, a self-taught visual artist specializing in illustration and design. With an appetite for collaboration and creation that never ends, Shaikh's work is truly awe-inspiring. Another highlight of the Art Garden will be the young collective from Srishti School of Design, 3 tier AC, who are sure to dazzle festival-goers with their unique and eclectic work.
3) NFT & Crypto:
SOCIAL's entry into the world of digital currency and NFTs is a testament to their commitment to pushing boundaries and driving progress in the industry. SAUCE will feature an NFT gallery empowering creators through NFTs, cross-cultural NFT collaborations and inclusivity on the chain. SAUCE NFTs can be mined for benefits at Impresario Handmade Restaurants.
4) Hype Marketplace:
The festival is a celebration of fashion and gaming, and this year, SAUCE is proud to welcome a range of incredible brands to the festival, including Natty Garb, SUGGA, Evemen, Lab88, and many more. CDC Experience is taking over the lifestyle section of SAUCE in Delhi and Mumbai. Join in on the fun with games like Sneaker Pong, Lace Up Challenge, and Treasure Hunt, and get a chance to win amazing prizes worth up to 200,000!
Mayank Bhatt, CEO, Impresario Handmade Restaurant says,"We are thrilled to bring SAUCE back for another year of innovation and inspiration. With the addition of Delhi and Bangalore, we are expanding our reach and creating opportunities for more talented creators to showcase their work. SAUCE is all about pushing boundaries and challenging norms, and we can't wait to see what our incredible community of artists, entrepreneurs, and performers will bring to the table."
Sharing her perspective on the initiative,Shweta Jain, Chief Business Development Officer: Luxury, Reserve & Craft – India and South Asia, Diageo said, "Johnnie Walker has been a beacon of progress and is committed to constantly pushing boundaries through its rallying cry of 'Keep Walking' narrative. We are excited to partner with SOCIAL once again for SAUCE to disrupt the cultural outlook. With Walkers&Co at the forefront of the collaboration, we aim to inspire people to revive socialising responsibly while engaging with the cultural change makers."