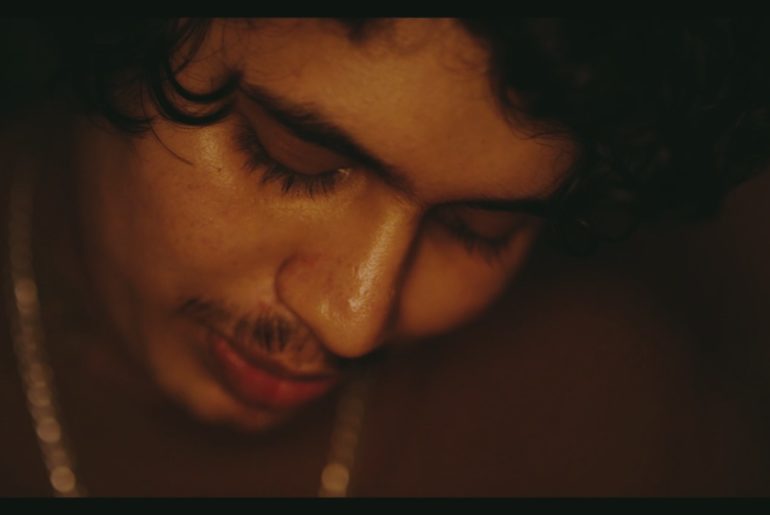 Known for his lyrical dexterity and his lightning speed rapping pace, Kaam Bhaari performs this song with complete abandon, in a truly raw and heartfelt manner. When talking about the song 'Mohabbat' he wrote three years ago when he was only 17 years old Kaam Bhaari says, "Jo bhi main aise bol nahi paata, toh maine gaane ke zariye mere dil ki baat boli. Abhi bhi bol nahi sakta ki gaana kyon likha? Bas, mann aaya toh likh diya." ("For all the things that I can't get myself to easily say, I used this song as a medium to say what's truly in my heart. I still can't explain what drove me to write this song. I just felt like I had to, so I did." I got to sit down with this young talent and learn about his idiosyncracies and method to the madness, and what can we expect from him going forward.
How did you start on your music journey?
I was always fond of writing poetry when I was in school in 6-7th Grade. I realised that I was inclined towards rapping and hip-hop, and I decided to pursue it by downloading beats from YouTube. From there, I started my YouTube Channel called KAAM BHAARI, where I was recording myself rapping through my phone. Then I was picked up for the Don't Hold Back competition and ended up winning that from where I met Ranveer Singh. That led to me being a part of the movie - Gully Boy where I sang 'Kaam Bhaari, Bhaari Kaam' and 'Kab Se Kab Tak' which was written by and performed by Ranveer. I have also written for Voice of the Streets and was also personally present in the movie Gully Boy as a rapper where I took part in the competition scene as well as seen performing during the movie. Then I was signed on IncInk Records, and I have since dropped Zeher and Ganpati Aala Re, and finally dropped Mohabbat!
Why did you keep your name Kaam Bhaari?
Kaam Bhaari is a trendy slang in Mumbai, and I also liked the literal meaning of it. So it means 'Hard Work' and 'Game Over', and I was building a Channel and was looking for a Brand Name, and I happened to stumble across it.
What was the thought behind Mohabbat?
I wrote this song three years ago and was uploaded on my YouTube with a random beat that I had downloaded with a lyrical video that I made myself. I wrote it just for the pleasure of writing music at the time, and Shikhar and Anushka then brought it to life with their production.
How was the experience of singing at an NBA game in Mumbai?
That was an excellent experience for me! I sang a song of mine that is unreleased currently and something I have prepared specially for NBA games while I was roaming around with the Basketball players inspired by their personal and professional life. I also took Lebron James name on the track, and he asked for the English translation of the song and gave me the principal sign-out that I can use their name in my song. Satnam was also mentioned in the song, and he was kind enough to support the song as well.
What are some of the challenges you have faced throughout your career?
A lot of things were challenging, to be honest. It was difficult for my family and me to afford my education. I am fortunate to be able to complete my training. Another challenge for me was the fact if the audience is going to enjoy my music or not and to reach a point where they would love the music. The biggest challenge was the fact that I had to stay out of trouble even though while growing up, I was in bad company. I'm glad I stayed out of that path and music was my saviour. Whenever I'm stressed or depressed, if I write a verse or a song or anything, I'll be brimming with positivity and will snap out of that negativity. Music is everything for me.
Any mistakes that you have made in the past that taught you an invaluable lesson?
I think we all are human, and we all make mistakes from time to time. The idea is that I keep learning from them. Even when it comes to music, there are so many mistakes that I have made while growing up. But I haven't let it leave me without learning from them. I think that is the most important thing to keep in mind.
So you have recently started performing live, how's that coming along for you?
Yes, I have recently started, and so far it has been a great experience. Of course, I am still figuring out the performance aspect to it whether I want to perform with a DJ or a live band. I recently played at Bangalore and have other cities as well that I'll be touring. I'm heading to Kanpur IIT - Antaragani Festival; which is a big festival. I'm also playing at Agra, Hyderabad and will be performing at NH7 Weekender with Spitfire. I am quite excited about the opportunity, but I will always treat a gig with the same importance regardless of it being in a club or a festival.
What are the plans going forward?
I was planning to release an EP, where Mohabbat was going to be a part of it. We decided not to release the tracks as an EP but as singles because I'm still growing as an artist, so I don't want to give the audience an EP just yet. It's not that I'm not prepared for it - it's just that I want to grow ultimately into myself to be able to express myself best in front of you in the shape of an Album.