The Mahindra Roots Festival which seeks "to reintroduce and celebrate the spectacular amalgamation of India's vast and diverse cultural heritage through a contemporary lens" will be held between 24 and 26 Feb, 2023 across venues (Bal Gandharva Mandir, Bandra Fort Amphitheatre, antiSOCIAL) in Mumbai.
The three-day festival is an opportunity for the new-gen audience to rise from their roots and immerse themselves in the spectacular union of India's varied music forms exhibited in a modern and innovative style, thus witnessing a mesmerizing picture of India's rich and diverse heritage through a contemporary lens.
Listed below are the 5 major attractions of the Mahindra Roots Festival that will keep the audience's melodiously engaged.
1. An aural and visual treat for the audience: Artists from across a variety of genres, languages and subcultures will enrapture audiences with performances that will definitely be an aural and visual treat. The festival will essentially bring music lovers an unforgettable experience of listening to leading exponents of the folk tradition, classical music, contemporary Sufi, abhangas, Bengal's Baul music tradition, and tribal music forms. Apart from that, with theater performances, immersive storytelling, and poetry in multiple languages of Hindi, English, Punjabi, and Kannada, amongst others, the festival aims to bring audiences closer to India's vast culture.
2. A spectacular lineup of artists: The festival boasts a diverse and talented lineup of 9 artists. The audience will get to witness prominent names deeply rooted in the Indian folk music scene and the music industry at large like Arko Mukhaerjee, Raghu Dixit, Tajdar Junaid, Jasleen Aulakh, Kabir Tales by Shabnam Virmani, Roysten Abel's Weaving Voices, Abhanga Repost, Aahvaan Project and Alif.
3. An invigorating and soulful musical extravaganza: The cultural event will see one of India's most inventive and charismatic artists - Raghu Dixit's musical charm, as he will be presenting his fusion of Indian classical music with a contemporary global sound. Besides, Raghu with his band members Raju Das Baul and Shilpa Mudbi, will treat you to soulful South Indian folk music. The new-gen dynamic singer from the Baul community, Raju Das will be bringing his own dynamism and different flavor to the Baul music that celebrates the emotion of bhakti/devotion and eternal love but in very earthly terms.
Moreover, with a unique blend of music, theater, storytelling and design, Roysten Abel's Weaving Voices will transport you to another orbit. Also, get ready to delve into the world of Kabir Tales by Shabnam Virmani as she will be re-expressing the power of Kabir's poetry through music.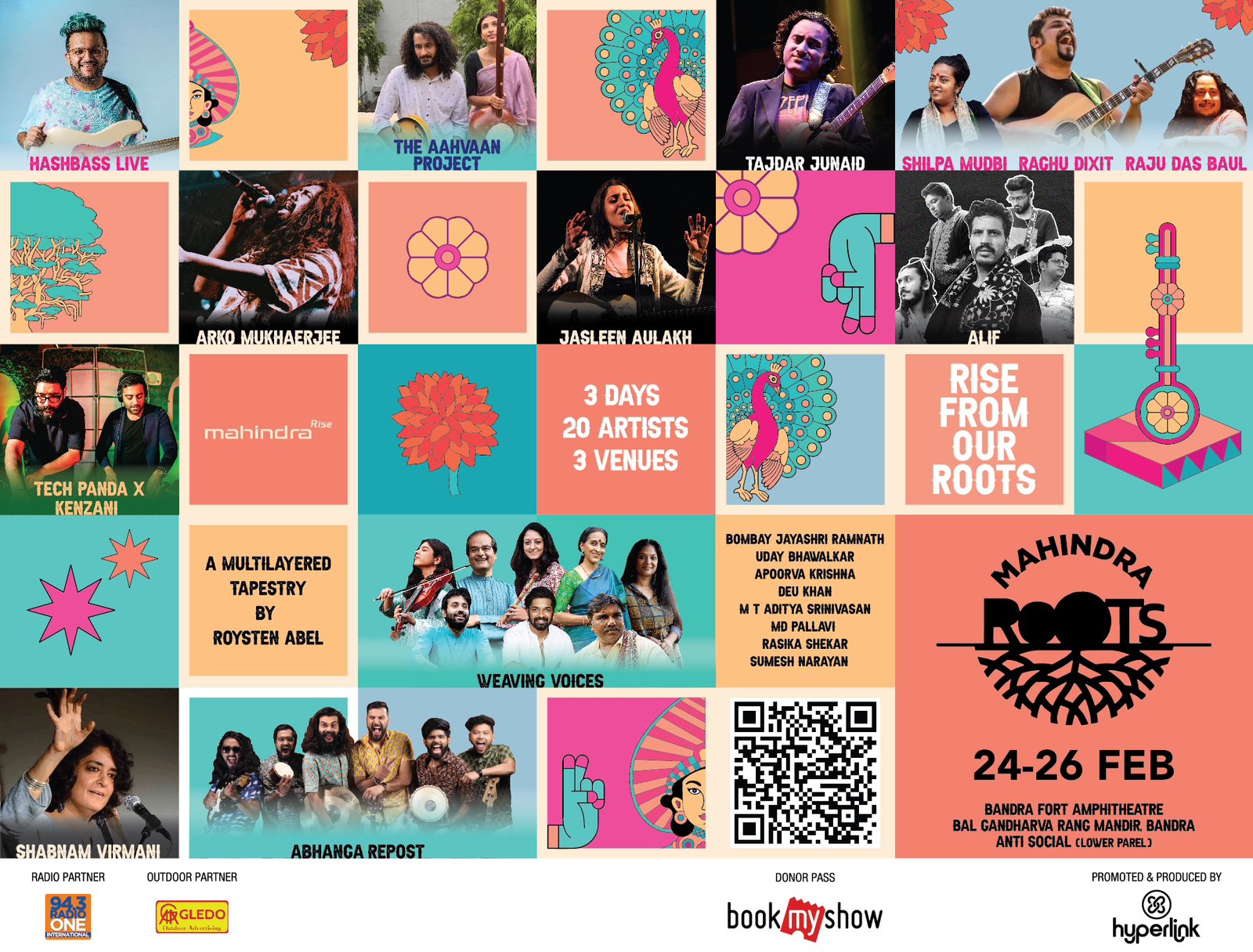 To fill the generational gap for a generation moving away from traditional notions, the contemporary folk-fusion music band, Abhanga Repost will be presenting their updated avatar of Marathi abhangs. In the abhangs, they will be addressing the wise words of saints along with the beats and rhythm of today's world while evoking mythological and spiritual knowledge in their compositions.
One of the unique vocalists from India's independent folk music scene, Arko Mukhaerjee will leave you spellbound with his soulful melodies which are a blend of the traditional and the modern. On the other hand, Alif will be introducing the audience to Urdu and Kashmiri music with his incredible music and poetry. Furthermore, the aspect of The Aahvaan Project that the audience will definitely take home with them is the simplicity yet the beauty, sheer compassion, and impact that each performance will emanate.
Apart from that, an upcoming sensation in Bollywood and soft Sufi rock genre - Jasleen Aulakh will be seen drawing attention to all aspects of the fabric of life through her amazing music. Tajdar Junaid is also geared up to paint the festival with his unique strokes of music and creativity.So, get ready to channel your inner self, and feel calmness descend on you as the music evokes an interplay of the colors of life and India's diverse cultures to leave you in awe.
4. 3 days festival with unique locations: Three days of magical melodic experiences with each day at a unique location. Opening night will be held on 24th February at Bal Gandharva Rang Mandir while the subsequent performances will be hosted at Bandra Fort Amphitheatre on 25th & 26th February, and antiSOCIAL on 25th February 2023. This will create a sense of excitement for festival-goers, as they will be able to explore new environments with each passing day.
5. Experience a unique blend of traditional and modern art forms presented in a captivating way: Celebrate India's rich and diverse cultures and get an opportunity to connect with your roots! The festival serves as a unique platform where people from all walks of life can step into a world where the different forms of roots and culture of Indian art are represented through various artworks innovative decor, modern designs, larger-than-life handpicked installations, sculptures, and so much more, thus, providing a visual treat to the audience that will be truly unforgettable.
So, as the 'Queen of the Suburbs', Bandra prepares itself for the mega event, being a part of this one-of-a-kind festival will definitely serve as a balm for all the wretched and tired souls.