Farhad Wadia is the founder of Mahindra Independence Rock, one of India's iconic and enduring music festivals. His passion for music and the desire to provide a platform for rock and alternative music in India led to the creation of Independence Rock.
Independence Rock has played a significant role in the development of rock and alternative music in India. It provided a stage for local bands that sang in English, helping them maintain their unique identity in a predominantly Hindi music industry. Moreover, the festival's impact extended to the launch of music television channels like MTV and Channel V, which used Independence Rock as a platform to connect with Indian audiences.
In an Exclusive Interview with loudest.in,he talks about his vision and relentless commitment to Independence Rock have made the festival a cornerstone of India's music culture.
Here are edited excerpts:
Q1.Could you share some lesser-known anecdotes or behind-the-scenes stories that highlight the unique essence of Independence Rock and what sets it apart from other music festivals in India?
What makes Mahindra Independence Rock different from all the others is that it is possibly the oldest festival and is definitely the loudest. Adding onto its legacy, it has also been the launch pad for some of the biggest musicians in India - starting with Rock Machine, who, in my opinion, is by far the best Indian Rock Band that has come out of India. They became industrial. Additionally, Pentagram or Vishal Dadlani got his break here. Warren Mendonsa's Blackstratblues played here. Virtually everyone has played here. It's interesting to see that even Parikrama, to a degree, started getting national recognition once they started playing over here. Most of the bands that have amounted to anything have played here, and this has been a great platform for them. That's what makes Independence Rock different. We've discovered talent, and we gave them the platform that helped propel the bands to great heights.
When we talk about the lesser-known anecdotes, with the festival having so many years under its belt, I don't know where to start and where to end. What might be interesting, however, is that during the early days, I went to court three times. The first time this happened was against the cops who tried to stop us. The next time was against the then government, which tried to put a pause on the festival. However, staying true to the rock spirit, we went to court and won. The third time was actually against Shiv Sena, who intervened but later on allowed us to perform. They were, in fact, very nice about the whole thing and helped us stage the festival. I'm actually grateful to Shiv Sena for having the foresight to allow us. Lastly, I believe in 2010, MTV named us as one of the top 10 festivals in the world, alongside a few renowned festivals like Wacken and Glastonbury. That was a good feeling.
Q2.Independence Rock has been instrumental in nurturing emerging talent. Can you provide specific examples of bands or musicians who got their start at Independence Rock and have since become prominent figures in the music industry?
As mentioned earlier, Mahindra Independence Rock has been a great platform for emerging rock artists. I would say that many performers like Pentagram/Vishal Dadlani, Warren Mendonsa Blackstratblues, Indus Creed, Parikrama, Gary Lawyer, Jasmine Bharucha, and Shweta Shetty, believe it or not, among many others. If you look at it deeply, you'll notice that almost everyone has once been at the Independence Rock, and it has been instrumental to their success.
Q3.Maintaining a long-lasting impact in the music industry is challenging. What motivates you personally to sustain Independence Rock's influence, and how do you see its role evolving in the future of Indian music?
Mahindra Independence Rock, as a platform, has been known to be a launch pad for Indian bands. We've continuously resisted the temptation of putting on big international acts. If we put it in other words, I would say that Independence Rock has been like a Swadeshi concert. We've made this a platform for Indian bands. Once a good band gets on, they get noticed over here, and then they get offers to play in different festivals. So, in short, I think the biggest influence that Independence Rock has had is that it is the platform where bands can find their break.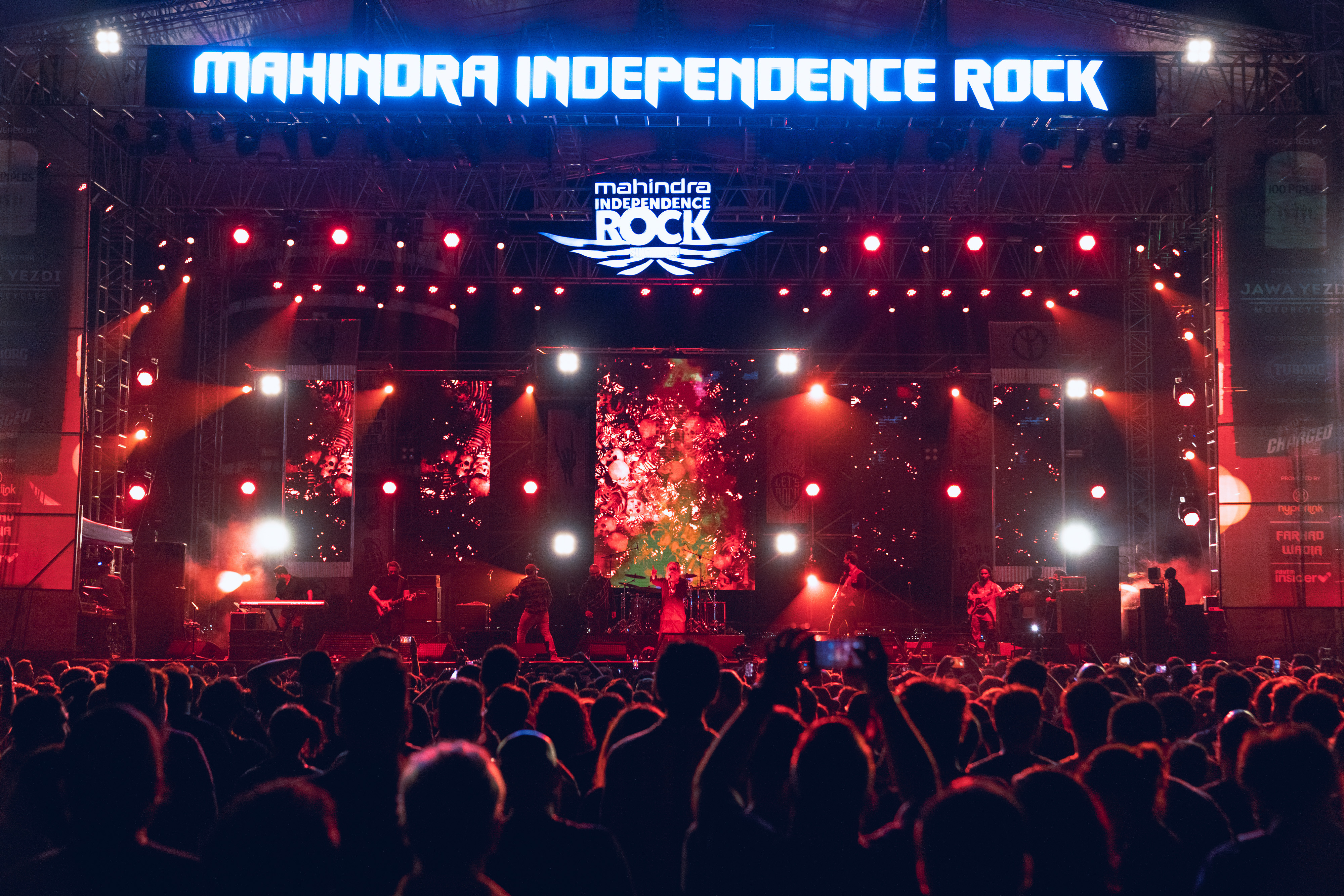 Q4. Your journey from being a fan to the curator of India's most iconic rock festival is intriguing. Can you share pivotal moments or experiences that shaped this transition and helped you become the driving force behind Independence Rock?
I used to play in a band in the late '80s, and there weren't any concert promoters around or any shows besides Malhar and Mood Indigo at IIT. So, If you played two shows in a year, that's not enough for a band to survive as a band together, so we started doing Independence Rock. I started doing another show called Rock Yatra, and that helped spawn a local concert scene for English bands.
The pivotal moments are that when we had adversity come our way, it didn't slow us down. We continued to go at it. We had the state government once telling us that every song has to be submitted for censorship. At these moments, you have to be very careful of what songs you're submitting because if you say you did a song like Satisfaction by the Rolling Stones, which consisted of the lyrics "I can get no satisfaction." It has a sexual connotation, and that wouldn't pass. We had to keep figuring out how to navigate through these various issues that used to hinder permissions.
There are some 20-odd permissions required to do a concert. Getting each one of them is a struggle. Today, you have agents who do one-shot everything. Back then, there really wasn't any other option to it.
This concert has helped me personally because everybody knows me from this concert. It's helped me in my corporate career so much so that when I would go to make a pitch, the marketing head would say, "Man, I saw you at Independence Rock 10 years ago, and those were the best days of my life." That really helped me open doors to get into a corporate pitch. It was great because I realised that almost every CEO in India has at some stage attended this concert while growing up. That really is something. It says something about the concert.
Q5.In your perspective, what are the five most important milestones that have defined the rock music journey in India, and how has Independence Rock contributed to or reflected these milestones over the years?
I think, in my perspective, the first part is that Independence Rock existed at a time when there were no annual concerts as such. You'd have somebody doing one odd concert and then shutting down because they couldn't sustain it. But this became an annual rite of passage for kids, and everyone would look forward to it and become part of it. That was the first milestone.
The second milestone i`s that, as I've mentioned previously, it became the launch pad of some of the biggest acts that we have.
The third milestone to me has been that it kept local bands who sing in English alive because otherwise, they would've, what English rock musicians say, "Gone over to the dark side", i.e. start doing Hindi films and stuff that pays the bills, which I refrain from dismissing because I have done it too. I have been extensively involved in both the advertising and Hindi film industries while creating music for them. However, this aspect has also contributed to the continuity of this facet of the industry. I think Independence Rock has been very instrumental in keeping the flag flying high for Indian musicians who sing in English, especially those in rock and alternative music genres. These genres don't find much prominence and platform in Hindi cinema. In fact, it is such an influential platform that it served as an inspiration for Farhan Akhtar, who was a regular at Independence Rock and Gattu (Abhishek Kapoor, the director of Rock on), to do Rock On.
The fourth milestone was that for the longest time, when MTV was Music Television and not Reality television, as it has become now, they actually used Independent Rock to launch the channel. In the late '80s or early '90s, when they launched out of Hong Kong, they timed their launch to sync with Independence Rock. They sent down their VJs, Danny McGill, Noni, Laila Roos, etc., to I-Rock every year. And it worked for both of us as the celebrities and stars drew crowds eager to see them, and this, in turn, gave them a huge live audience in India. This phenomenon also played a pivotal role in the inception of music television during that era. From there, the evolution continued, leading to the birth of Channel V as MTV transformed itself into Channel V, and MTV subsequently re-established itself in Singapore rather than Hong Kong. This transition was particularly noteworthy, and Independence Rock played a significant role in shaping these developments. I think the most important thing that Independence Rock has done is that it has given college kids and young adults a platform to cut loose and do their own thing, let off some steam creatively, and then go back to their normal lives. I would say this is the fifth thing that this platform has been able to accomplish.