In the climactic finale of the ICC Cricket World Cup 2023, cricket enthusiasts worldwide are eagerly anticipating a monumental showdown between two cricketing giants, India and Australia. Scheduled to unfold at the iconic Narendra Modi Stadium in Ahmedabad on November 19, the grand culmination promises a spectacle that will leave an indelible mark on cricketing history.
Unlike its predecessors, this year's World Cup chose to forgo the traditional opening ceremony, opting instead for a direct plunge into the cricketing fervor. The spotlight remained firmly on the sport, heightening the excitement for the intense battles that played out on the field. While the absence of the opening ceremony does not diminish the event's grandeur, it underscores the genuine, unfiltered essence of cricket that fans hold dear.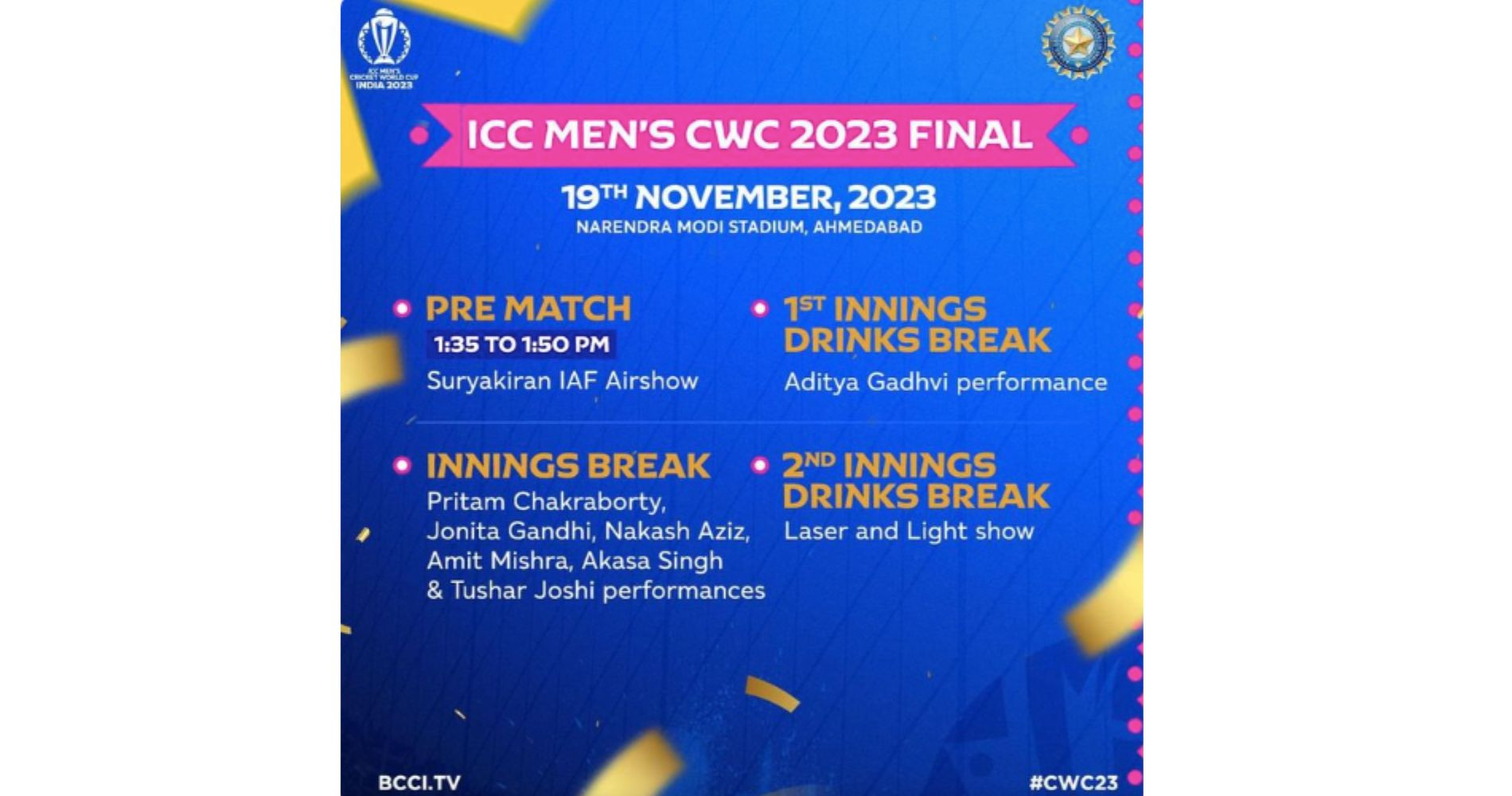 As the cricketing crescendo reaches its zenith, enthusiasts can anticipate a dazzling closing ceremony on the final day. This moment has been set aside by organizers to commemorate the conclusion of a month-long cricketing festival. Brace yourselves for a sensory feast featuring a harmonious blend of music, lights, and captivating performances.
An exception to the usual absence of opening ceremonies was observed before the India vs Pakistan clash in Ahmedabad on October 14. The ceremonial spectacle preceding this high-intensity encounter set the tone for an enthralling match.
Moving beyond the cricketing feats, the upcoming closing ceremony is poised to be a star-studded event, featuring some of the industry's finest talents. Renowned personalities such as Pritam, Jonita Gandhi, Amit Mishra, Nakash Aziz, and Tushar Joshi are set to elevate the festivities with their dynamic performances. This fusion of cricket and entertainment adds an extra layer of excitement, ensuring that spectators are in for a delightful experience extending beyond the playing field.