Music has found a new platform in video games. The music business will profit immensely if it properly finds the channels to integrate with the gaming industry. The gaming industry is one of those, that profited off of digitization. Gaming is also one of the industries that has managed to embrace all kinds of technological innovations and generate profit off it (covering freemium services and in-game transactions for virtual goods and bonuses).
Integration of the industries has brought about many new innovations into to the market. Some of them are listed below-
Virtual concerts
The concept of virtual concerts broke out into the market with the rise of the massively multiplayer online game Second Life. In its glory days, many artists and labels used the platform to throw online concerts and also connect to their fans digitally.
The artists also managed to monetize their performances by taking donations or selling merchandise in-game. Quite a few artists also managed to get signed to a label or get project externally through in-game scouting by agencies.
The idea of virtual concerts was revived again this year, when DJ/Producer Marshmello teamed up with Epic Games' Fortnite Battle Royale and gave a 10 minute concert in-game. They even ended up releasing special in-game merchandise that the players can buy through micro-transactions.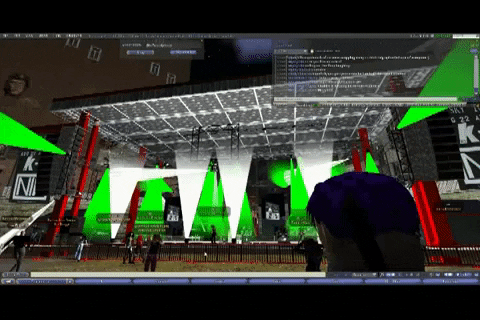 Film composers and musicians in VGM
It has become a common scene in the industry to see some of the biggest musicians and film composers dabbling in VGM (video game music). With the visible steady growth in virtual entertainment space, many such collaborations end up reaching great heights.
For example, Hans Zimmer, one of the greatest film composers of today, who is recognized for his work in the Pirates of the Caribbean series, Inception and more, has done soundtracks for video games. The most notable is his work with Lorne Balfe on Call of Duty : Modern Warfare 2.
The founder of Nine Inch Nails, Trent Reznor, is known for scoring the FPS game, Quake, in the late '90s. Paul McCartney is known to have written music for Destiny, a follow up to the Halo series by Bungie. Many other musicians and filmmakers like Skrillex, Megadeth, Harry Gregson Williams etc. have also made their mark on the VGM industry.
Games like Fifa and GTA pushing music
In the 90s, licensed music started becoming more and more common in games. Series like Grand Theft Auto and Wipeout become as well-known for their perfectly curated soundtracks. It is not uncommon to notice that for the vast majority of gamers, video games have become a way to discover new music and genres from all over the world. 
One of the most awaited soundtracks, annually, are the FIFA soundtracks. The amount of exposure a AAA title like FIFA can give to underground/international artists is phenomenal, with the outreach of the game being as massive as 1bn listeners. Video game soundtracks also have an added bonus of getting the listeners emotionally attached to the music because of situational curation.
Alternate streams of revenue generation through game features
Illegal downloads and piracy was killing the music industry in the 2000s, but the video game industry managed to keep it afloat. The Aerosmith-themed version of Guitar Hero made the band more money than any of their albums. In 2007, Aerosmith sold the license for 29 songs to Activision.
In 2008, the game managed to sell an upwards of 500,000 copies of the game. By 2010, over 3.6 mil copies had been sold. Apart from the profit made from the royalties, the game also managed to drive up the band's sales and helped the popularity of the band soar, getting them new deals and opportunities.
Integration of streaming services with the video game industry
The video game industry has gotten on the bandwagon with streaming service like Spotify, Youtube, Twitch etc. to further integrate the industries. It has led to a massive boom in innovative ways for sharing and monetization of VGM.
For example, a mobile game called Beat Fever attempts to generate better engagement between players and musicians. The players can tap and play to their favorite music and can eventually stream the entire track on platforms like Spotify and Apple Music. When Steve Aoki's track Azukita was featured in the game for two weeks, its streams increased by 2.3m.
Apps like Spotify and Youtube also have especially curated VGM playlists, soundtracks and OST titles included, which are both curated by members and listeners. It helps the outreach of the music, connecting listeners to their games and helps generate revenue for composers.
Many brands like RedBull also have started streaming on their own channels on live streaming platforms like Twitch, the biggest platform for video game streaming. Redbull Remix Lab is a notable show on their brand channel where T-Pain invites producers to remix popular songs in real time, incorporating live feedback and ideas from their chat room.
Moving forward – Gaming and the music industry
If we look at the numbers today, about 40% of VGM (video game music) composers are freelancers. They work on a non-exclusive basis where they retain their master and publishing rights and also earn royalties for the unit sales of the game.
And though the video game industry has shown itself to be an expert in monetization, it does not always trickle down to monetizing the music itself. According to the Game Audio Industry Survey, only 49% of music used in high-budget video games was registered properly with a performing rights organization. That percentage is even lower for indie games, which stands at just 28%.
In order to keep the industry growing for VGM, it is important for the industry heads to lay down proper financial and technical foundations for structured and mutually beneficial collaborations between the music and gaming businesses.
Integration of Music and Gaming in the Indian Market
Su Real became the first Indian artist to feature in the FIFA games' curation back in 2017. His track Bajre De soundboy was featured in EA Sports' most famous game – FIFA 18.
Tejas Nair aka Spryk, also intersected music with video games with his release of his track 'Meta' in 2016. He released a mini-game with the same name in collaboration with Tessellate Studios. The game could be played online and beating it (scoring 10 points) would mean access to free download of the track.
Mumbai based metal act Providence's guitarist Shezan Shaikh, who also runs his own studio – Studio Providence, is also working on OSTs for various video games that are due to release in 2019. He is working on games like – Ministry of Broadcast, Meteora and PickLock Games' Deep Inertia.
Loudest Take – Even though the growth of the Indian music scene is slow, we can see a lot of artists trying to bridge a gap between music and other industries to generate alternate flows of revenue. Integration at intersections of brands, OTTs, gaming industry and more only expands the scope of growth for the musicians. All that's left is to wait and see how far the musicians can scale their entrepreneurships.