Electronic Music fans in Mumbai, get ready for a massive November as there are unique boutique events lined up this month.
We have come up with a list of 4 events that you just cannot miss on the onset of this festival season.
1. Bass Camp Festival:
Founded in Feb 2010, Bass Camp Festival is now in its 8th Year, and is India's first and only Bass heavy electronic music festival, Promoting cutting edge Electronic Music like Drum 'n' Bass, Dubstep, Trap, Footwork, Garage, Jungle, Glitch Hop, Future bass and all genres with heavy emphasis on Bass.
Venue: Famous Studios
DATE: SATURDAY, 3rd Nov 2018,  TIME: 7:30 PM Onwards
TICKET LINK: http://bit.ly/BassCamp2018Mumbai
LINE – UP:
Ivy Lab
Anna Morgan DJ
Rider Shafique
Oceantied
Tarqeeb
Monica Dogra
EZ Riser
MALFNKTION
Paper Queen
Harbour Dubs
Metanoia
2. Far Out Left: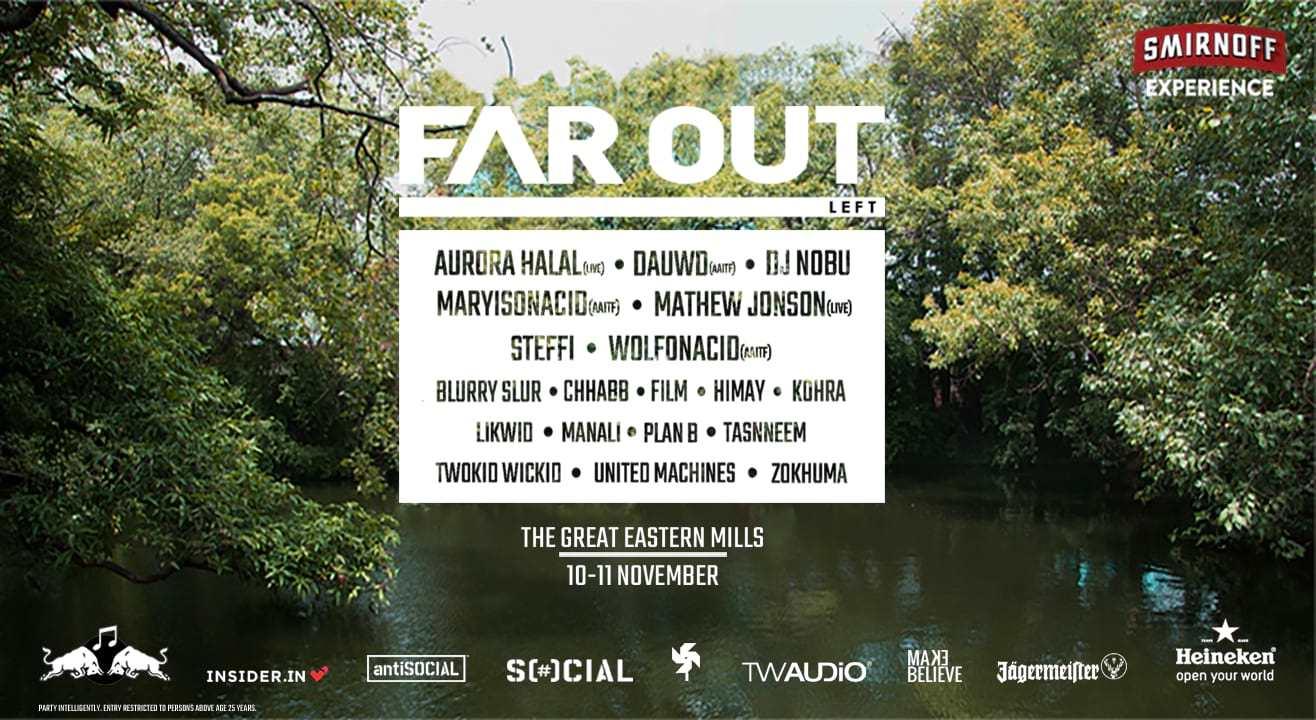 A unique two-day dance music experience that will bring together International and homegrown artists with excalibur pedigree under one roof for the very first time and will perform at specially curated dance floors within the picturesque property. This is the place to be for all leftfiield House and Techno fans.
VENUE :  The Great Eastern Mills, Mumbai.
Date: 10th & 11th November Time: 12pm Onwards
TICKET Link :
Limited capacity event. Tickets available at Insider.in , buy them there :
https://insider.in/far-out-left-november-2018/event
LINE-UP :
Aurora Halal (LIVE)
DJ NOBU (OFFICIAL)
Steffi
Mathew Jonson (LIVE)
Dauwd (African Acid is the Future )
Mary is on Acid ( African Acid is the Future )
Wolf on Acid (African Acid is the Future )
Kohra
FILM
United Machines
Blurry Slur
Tasnneem Docttoar
Twokid Wickid
Manalii
Himay
Plan B ( Gresham )
Zokhuma
3. Disrupt 2018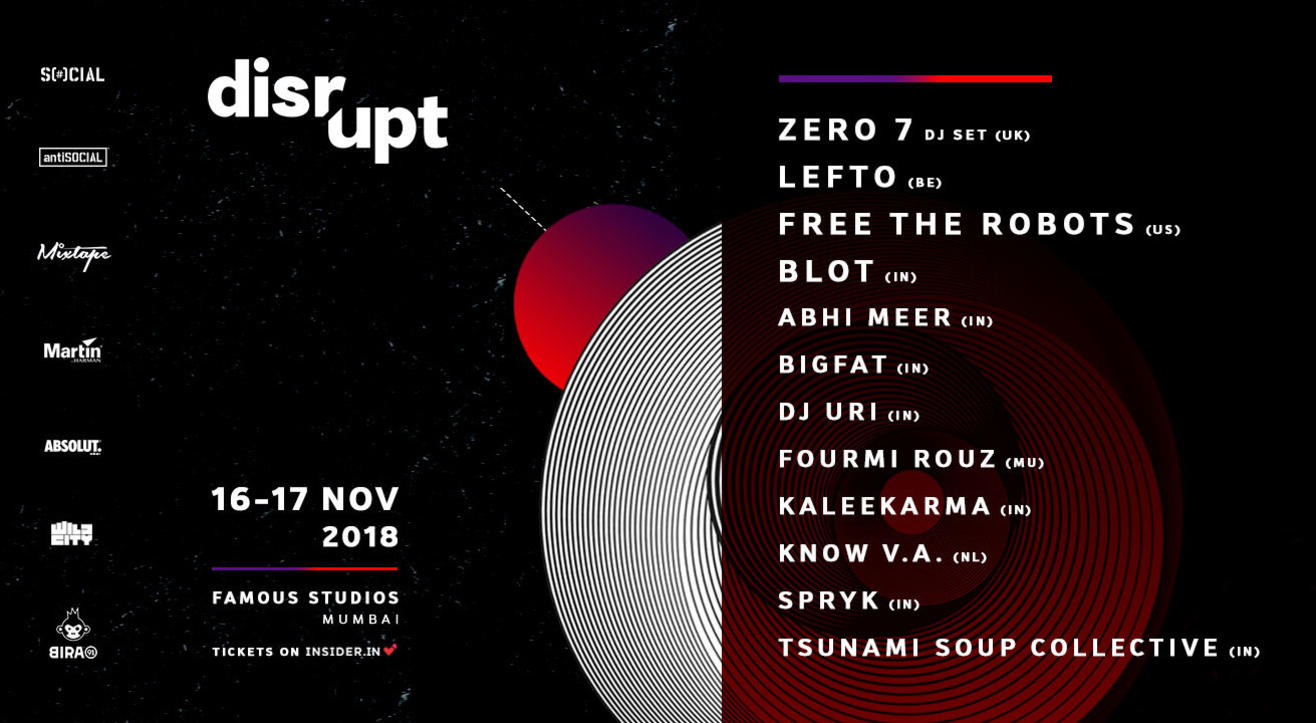 Disrupt is an urban festival celebrating music from the most forward thinking artists in electronic music from India, and around the world; showcased using the latest audio and visual technology, the festival's distinct offering for the music and nightlife community.
Venue: Famous Studios
Date: 16th & 17th November Time: 6:30pm Onwards
Ticket Link: https://insider.in/disrupt-festival-nov-2018/event
Line-up:
Zero 7
LEFTO
BLOT
Abhi Meer
Bigfat
DJ URI
FOURMÏ ROUZ
Kaleekarma / कलीकर्मा
Know V.A.
Spryk
Tsunami Soup Collective
Check out the Disrupt 2017 Video:
4. MYSA -Autumn '18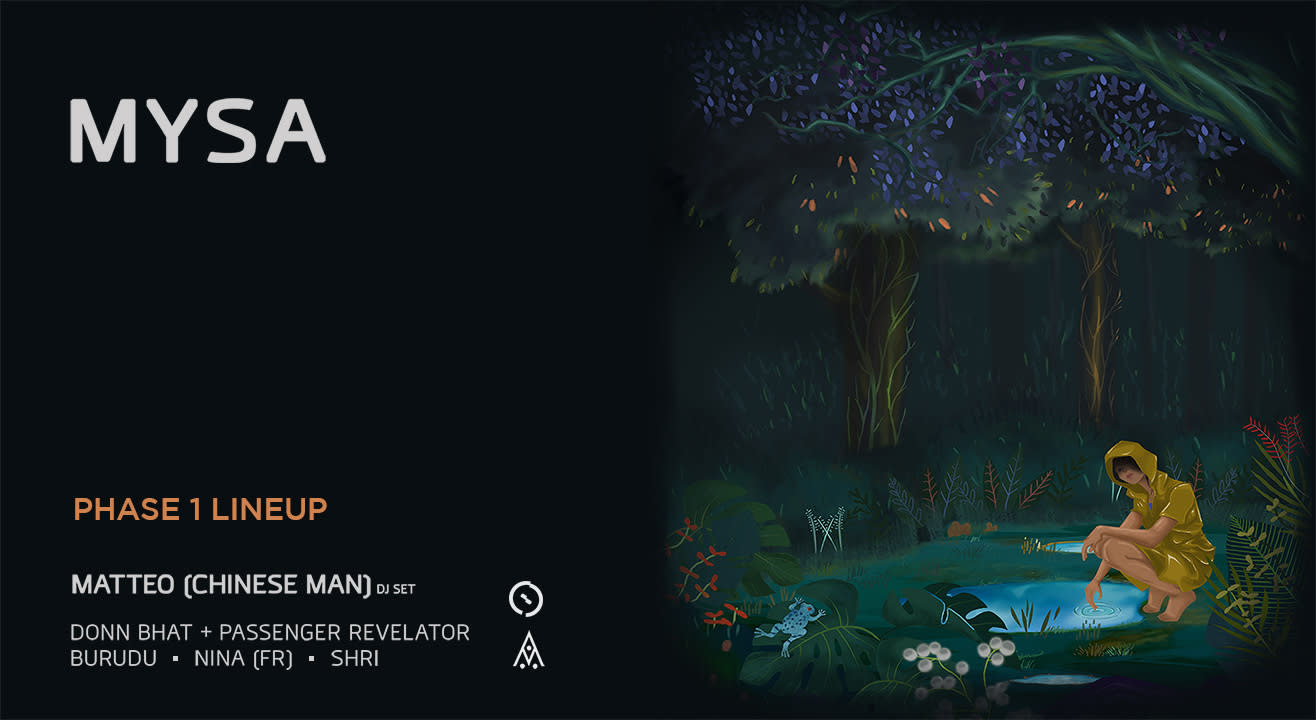 To celebrate the boundless beauty of nature. A space, a feeling that disconnects one with the mundane and connects one to the other and oneself. Nariyal Paani & Gently Altered have come together to create a weekend destination festival, amidst the lush greens of Forest Hills at Tala. Filled with 20+ hours of music by international and homegrown artists, luxury and designer accommodation, community camping experience, barbecues and bonfires and party buses to and fro from the cities
Venue: Forest Hills at Tala
Date: 17th and 18th November Time: 4pm onwards
Ticket Link: https://insider.in/event/mysa-autumn-november-2018/buy/shows/5bc0ad55ea4ba80018062386
PHASE 1 ARTIST LINEUP
– Matteo – Chinese Man Records DJ Set
– Donn Bhat + Passenger Revelator
– Burudu
– Shri
– Nina (FR)
*Many more artists to be added. Full lineup will be out very soon*